About Jen's Designs

- A Short History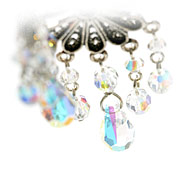 Jen's love and passion for jewelry and natural stones extends as far back as she can remember. This local San Diego designer started out making jewelry as a hobby, creating beautiful pieces that her friends began purchasing right off her body. Since then, she has been creating jewelry that, her customers tell her, "always generates compliments."

Her design style typically includes beaded semi-precious stones and sterling silver. But she has been known to throw a bit of leather into the mix as well. Jen finds most of her inspiration in the beautiful natural stones and colors that the earth and sea produce. The orange hues of carnelian, yellow-apple green of peridot, deep blues of lapis & sodalite, pale pink of rose quartz, aqua of aquamarine, and fantastic shapes and colors of pearls all inspire her.

"I try to focus on the way jewelry makes you feel. My goal is to create a one-of-a-kind piece, something a little different that no one else would have. I strongly believe jewelry should be something meaningful to you that you might play with throughout the day. That it may bring you back to why you loved it in the first place. Or how it compliments your outfit just perfectly. Or it simply makes you feel good because you received a number of compliments while wearing it."

Jen tries to accomplish all of this while keeping her prices extremely reasonable. Lets face it, if you are a jewelry person; you know jewelry is the best indulgence. For about the same price as a nice dinner, you can have a fabulous piece of jewelry without the calories.

For more information, or to discuss your jewelry needs, contact us here.